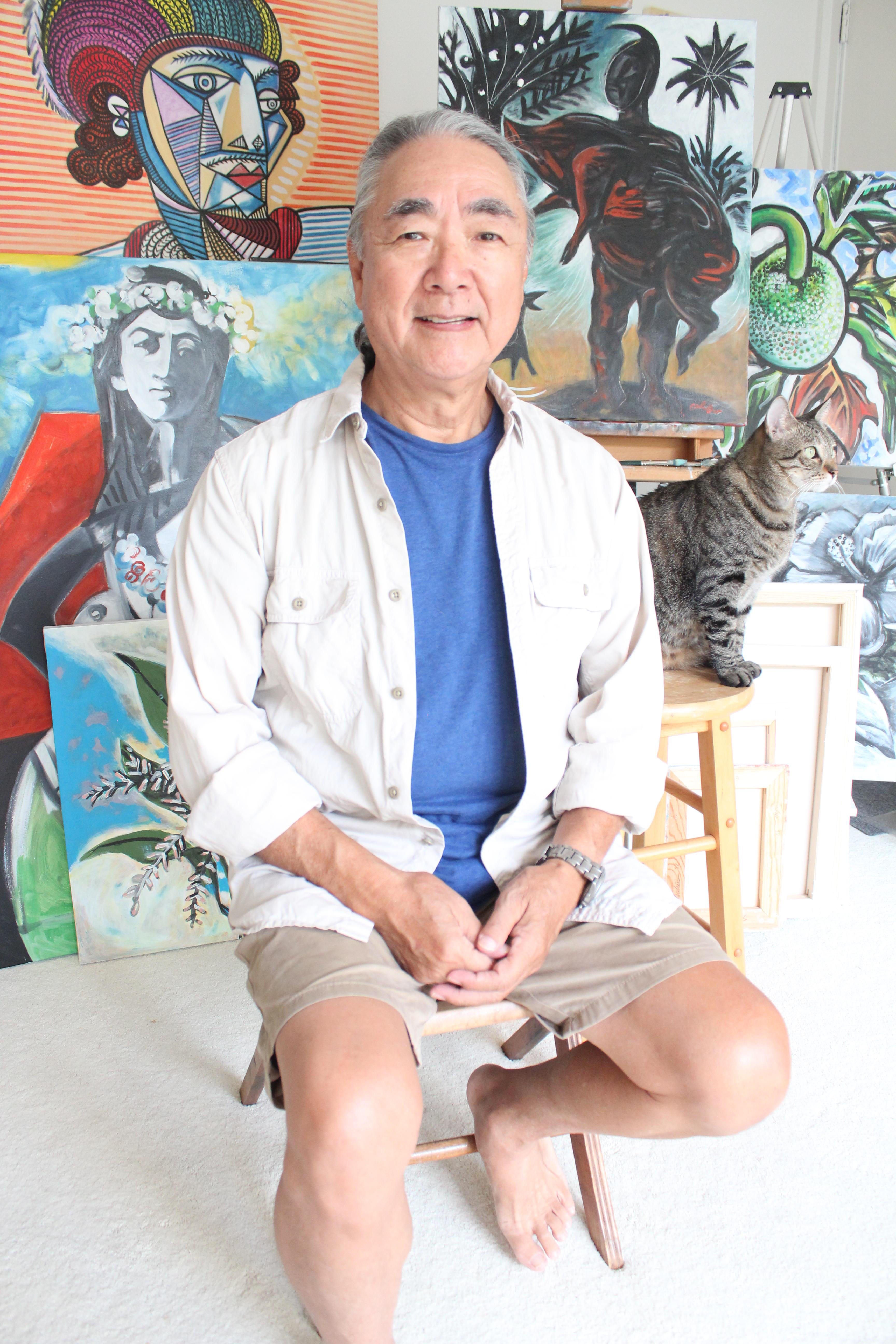 Shin Ola Takahashi was born on July 10, 1947, in the Miyagi prefecture of Japan. As a student in school, Shin didn't like the maths or the sciences; he simply loved art. However in his prefecture, in Sendai, there was no such thing as a University for art. In his graduating year of high school, Shin left his home town and enrolled into an art school in Tokyo with minimal yet modest help from his parents.
From 1965 to 1970, he studied at Aoyama Art School and the Kuwasawa Design School in Tokyo. After his academic endeavors, he began working at Araki Design and Daba Studios in Tokyo. Consequently, Shin had a growing sense of discrepancy between commercial design and the fine arts. This ultimately led him, in 1971, to take advantage of his one-man show at the Ginza (Namiki gallery) to devote himself to his own work. He became captivated by "Nihon-ga" (Japanese-style paintings) and soon fell into a period of creating religious paintings, particularly focused on "Jigoku-e" (hell scenes). His pictures expressed a mortal man's anxiety, and even views of cowardice. He prominently followed his principle belief that it is better to produce compositions -- not of delicate beauty -- but of the humble and ugly; to look squarely at what is terrible to see, because we live in the face of death. He cherished the ambition to pursue the authentic beauty of a composure without any illusion. 
Growing dissatisfied with Tokyo, Shin immigrated to Hawaii in February of 1974 to become a pupil of Jean Charlot(1898-1979), a well-known Hawaii mural artist.  His view of art vastly developed in Hawaii as he became engrossed in Western art movements like Cubism, Surrealism and DADAism. In the course of time, with the support of the Charlot family, Shin began exhibiting his art in Hawaii. 
Since then one of his paintings has been placed in the State Capitol after being purchased by the Hawaii State Foundation for the Arts. Furthermore, Shin has been the contributing art editor for Seaweeds and Constructions, Honolulu's Art and Literary magazine since 1976.
As Shin entered his retirement phase, transitioning from a time of working for money to a time of self rule and creative freedom, he decided to explore new forms of art and is now focused on oil and acrylic materials utilizing his uniquely-created "Nihon-ga" method. He proceeds to develop new pieces at his residence in Honolulu, Hawaii. Currently, Shin has continued to follow the vista that his ancestors speak through his brush as his most recent pieces portray "Dynamic Equilibrium".
1971: Exhibit at "Namiki Gallery" in Ginza, Tokyo, Japan.

1975: Exhibit at "The Dump" on King Street. featuring works from the private collections of Honolulu artists.
1976: Exhibit at "Honolulu Hale (City Hall)"--- "Discoveries".
1976: One man show, at "Positively" on King Street.
1977: Exhibit at "Honolulu Hale (City Hall)"--- "Drawing and Prints".
1977: Exhibit and poetry reading with Kimie Takahashi, at "Manoa Valley Theater (HLAC)".
1978: Exhibit at "Queen Emma Gallery"---"Painting and the Art of Concrete Poetry".
1978: Given the middle name "Ola" by Abraham Piianaia, Native Hawaiian scholar, professor of geography at the University of Hawaii.
June, 2013: Solo Exhibit at "Stand Up Eight" on King Street.
February, 2014: Exhibit at "Stand Up Eight" on King Street.
April, 2014: Exhibit at "Midkiff Learning Center", Kamehameha School ---"Shinichi Takahashi & Westlake Concrete Poetry".
May, 2014: Exhibit at "Fishcake" in Honolulu ---"KAKA'AKO water, land, people"
June, 2014: Exhibit at "Gallery 'Iolani WCC"--- "Westlake Art Invitational Reception".
May, 2018: Exhibit at "Hawaii State Art Museum"--- "50 artists, Art in Time 2018".
May, 2020: Exhibit at "Hawaii State Art Museum"--- "50 artists, Art in Time 2020".
July, 2020: Exhibit at "Fishcake"---"Dynamic Equilibrium".